Volunteers are the heartbeat of the Kitchen.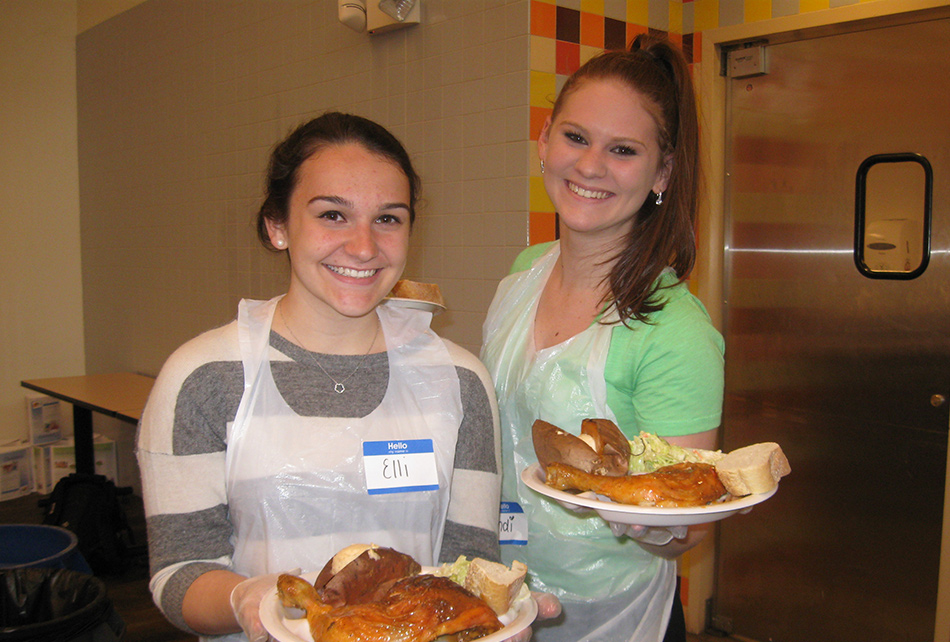 Founded by volunteers in 1976, Cathedral Kitchen has always relied upon volunteer help to make our meal program work. Over 8,000 volunteer slots are filled each year to serve the meal, saving us many thousands of dollars in staffing costs. Our volunteers perform other roles as well, picking up and delivering donated food or helping at our annual fund raiser.
Our volunteers come from diverse backgrounds and faiths. They are all ages and come from the suburbs and the city. This makes for a unique dynamic and confirms that for a good cause, "people of all nations" can work together in harmony. We could not do what we do without such dedicated volunteers!
If you are interested in volunteering please schedule your service with our Community Relations Director, Alexandra Wills. You may complete our Volunteer Application and email it to Alex at alex@cathedralkitchen.org or complete the information below. Due to the number(s) of volunteers needed, it is important to schedule your service well in advance. You can also reach Alex by phone at 856-964-6771, ext. 107 Mon-Fri between the hours of 10AM and 4PM.
Volunteers help to plate food and deliver the plates to tables, seat guests and clean up after the meal is finished. Monday through Friday dinner is served from 4:00 to 5:00 PM; volunteers arrive at 3:30 PM and remain to clean up until 5:30 PM. On Saturday, lunch is served from 12:00 to 1:00 PM; volunteers arrive at 11:30 AM and remain to clean up until 1:30 PM. We schedule about 20-25 people each day, Monday through Saturday, to help serve an average of 325 guests. Both individuals and groups are welcome. Young people must be 16 or older to serve at the Kitchen, please see below for service project ideas for younger children.
Summertime is our biggest time of need for volunteers, as many people are vacationing and our high school groups are out of school. People are hungry all year long. Please call ahead to book your volunteer service.
Important Information for the Holidays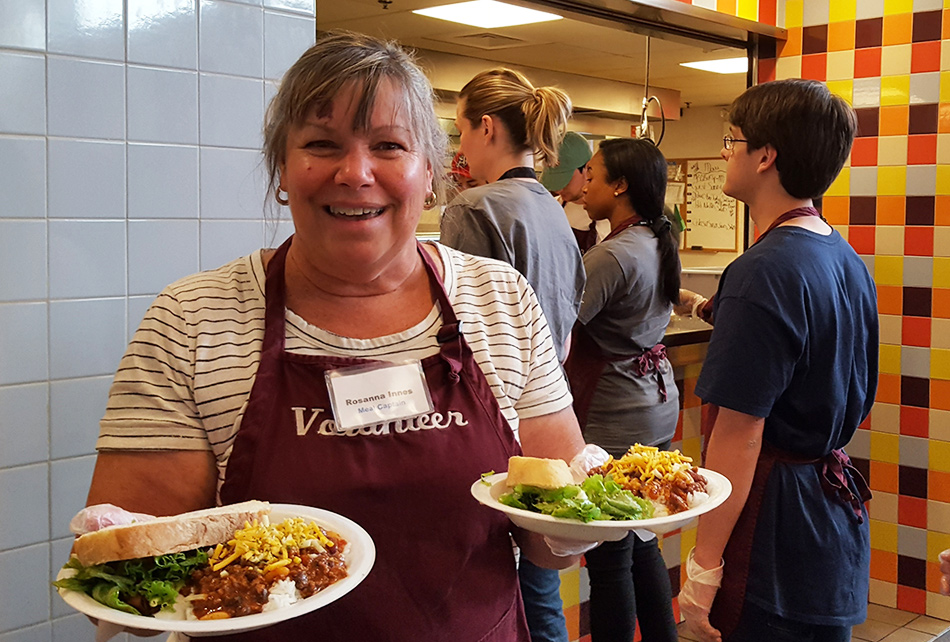 The Cathedral Kitchen is closed on the following days:
Memorial Day
Independence Day
Labor Day
Christmas Day
New Year's Day
Martin Luther King, Jr. Day – We have our regular dinner service; volunteer service reservations are required in advance. Groups interested in doing a volunteer project on MLK Day, should contact us far in advance, as space is limited.
Thanksgiving – The Volunteer Center of Camden County uses the Kitchen on Thanksgiving Day to provide a holiday meal for our guests and to give our staff a chance to enjoy the holiday with their families. We do not schedule the volunteers for Thanksgiving. The Volunteer Center can be reached at (856) 663-9356.
Cathedral Kitchen needs volunteers with station wagons, SUV's or small trucks to pick up and deliver food that is donated to the Kitchen by local restaurants and businesses. Our volunteers make these pickups for us on weekdays. Some lifting may be required. To be on our delivery call list, contact Naeemah El at 856-964-6771, ext. 102.
Children's Volunteer Projects
For our younger volunteers, we have opportunities for them to help out at home, in school, or with their faith organizations.
Utensil Packets: Assemble packets for our guests that include a plastic fork, paper napkin, salt and pepper packet in a sealed sandwich baggie. Any amount is welcome.
Placemats: Decorate paper placemats for our guests that celebrate the holidays and/or seasons. You may use basic white paper placements or regular construction paper of any color. Any amount is welcome.
Centerpieces: Make our dining room festive. Centerpieces do not have to be fancy, elaborate, or expensive. For example, we had paper bag turkeys for Thanksgiving—so cute! We'll need a 22 total centerpieces to have enough for our tables. Note: Please do no use glass, heavy objects or glitter, and make sure they can stand up on their own on a table with no support.
Sandwiches: Refer to food donation page for details.
A placemat made by one of our children volunteers
Finished packets, placemats, centerpieces and sandwiches can be delivered Monday-Friday from 10:00 AM to 3:00 PM and Saturday 11:30 AM to noon at the loading dock at the back of the building. Donations of these items are appreciated. Please complete our donation log when you drop off these items so we can send our acknowledgement.
Volunteers of all ages are needed for gleaning.  The USDA defines Gleaning as the act of collecting excess fresh foods from farms, gardens, farmers markets, grocers, restaurants, state/county fairs, or any other sources in order to provide it to those in need.
Cathedral Kitchen benefits from the generous support of NJ Farmers Against Hunger and their donations of gleaned fresh fruits and vegetables throughout the year.  CK's gleaning volunteers harvest the produce which may be blemished but still edible and deliver to Cathedral Kitchen.
Cathedral Kitchen would not be able to afford these fruits and vegetables which are put to use in a variety of ways including:
Prepared and served at our daily meal program which feeds a daily average of 325 people
Available at the CK Market Stand where dinner guests can "shop" for the fresh produce they like free of charge
Delivered weekly to Camden senior centers as part of CK's community outreach.
Volunteers of all ages can sign up for gleaning dates and locations on the NJ Farmers Against Hunger webpage: http://www.njagsociety.org/farmers-against-hunger.html
Any questions, please contact Alex at 856-964-6771 ext. 107.